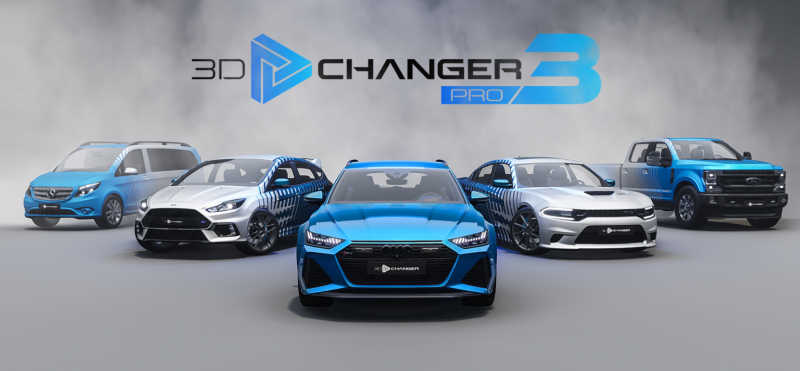 3D VIDEO & REDNDERING , BUSINESS , APPS , CONFIGURATOR
15. April 2021
Car Wrap Configurator 3D Changer
Our continuous effort is to push boundaries, create stunning artwork, and in cooperation with WrapStyle and Wrapstock to contribute to the wrapping industry with something new.
Therefore, we have developed a car wrap configurator called 3D Changer. The app is based on 16 years of experience in the car wrapping industry, discussed with professionals to meet their needs and help them with daily work.
This tool is mainly intended for wrap shops and graphics designers. They can use it for their own needs or allow their customers to play around, visualize their new vehicle wrap design or select a new color among 1080+ wrap films from brands like Avery, 3M, Oracal, KPMF, Hexis, Inozetek, etc.
3D Changer allows users to preview designs on 200+ realistic-looking models of vehicles and create amazing custom visuals.
Not only users can import their own wrap design (full wrap or partial wrap), but also add a logo or other graphics, customize scenes, and use a bunch of other cool features like window tint, change rims or color of brake calipers.
Involve your customers in the process of creating their dream car, help them decide, and add-on 2D templated presentations with 360 previews, 3D pictures, or videos.
In April 2021 version PRO 3 was launched and brought the visuals and user experience even to a higher level. We also added more vehicles, designs, wrap films, and functions. But above all, the quality of visualization became more photorealistic.
By continuous work on updates, we try to make a 3D configurator a new standard in the wrapping industry.
The app is designed for both PC and iMac (Windows and iOS) and it is available at 3dchanger.com. You can try a FREE version with limited functions or purchase the PRO for professionals.
For more information visit the website www.3dchanger.com, get inspiration on Instagram, join the Facebook community, or follow YouTube video channel.